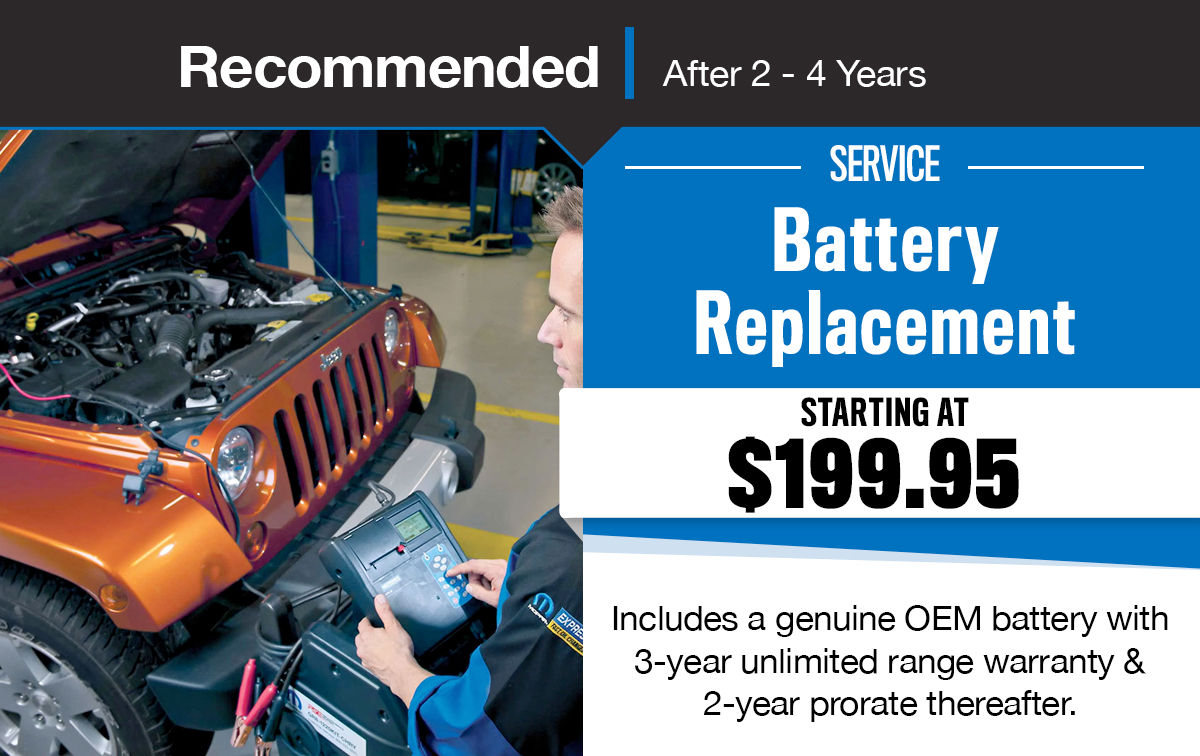 Car Battery Replacement with Colonial South Chrysler Dodge Jeep Ram
When you need a battery replacement, you should bring your Jeep Cherokee to a fully certified maintenance shop in Fall River or your local community. The technician will first safely remove the old battery, replace it with a new Mopar certified battery, secure the new battery in place, and correctly attach the proper cables. While this appears to be a simple process on the surface, it is possible to secure a battery incorrectly or misconnect the cables so if you are unfamiliar with the process, you should trust an expert.
Battery Replacement Service
The battery in your Jeep Grand Cherokee is like the batteries many other devices use in that over time, it wears out and can no longer hold a charge. You may need to start looking for car batteries for sale and installation because your old battery does not work properly. However, other problems can cause a car battery to need replacing, such as physical damage to the battery itself, which can be caused by an accident in New Bedford or, in some cases, the local environment.
When Should Your Battery Be Replaced?
In general, the average car battery in your Jeep Wrangler should last roughly three years before it needs replacing. It is important to remember that not every battery lasts three years, and some far exceed three years of use. Always pay attention to your car's performance when driving in Dartmouth, and if you're having electrical issues (even if your battery is not three years old) you should take it in for testing. If you notice any physical damage to your battery, such as cracks in the case or swelling, you should have it replaced as soon as possible.
Signs You Need a New Battery
When your RAM 1500 needs a new battery, several identifiable signs will be identified when driving in Westport. These signs should not be ignored and include weak displays, dimmed headlights, your car requiring several cranks to start, or not starting reliably. These could be signs your battery is failing and needs immediate replacement.
Why Use Colonial South Chrysler Dodge Jeep Ram for Your Battery Needs
We know that when you search for a car battery near me, you're going to get a lot of matches not just for online stores but for local automotive service providers in Fairhaven and Dartmouth. At Colonial South CDJR we proudly serve some of the most well-known automotive brands such as Jeep, Ram, Dodge, and Chrysler automobiles. We provide all our customers with the highest quality care for their automobiles. We invite you to call us today to learn more.
Schedule Service
Complimentary Dealership Amenities
Free Wi-Fi
Rental Cars Available
Children's Play Area
Business Workstations
Complimentary Beverage & Coffee Bar
Massage Chairs
Vending Machines
Comfortable Waiting Area
State-of-the-Art Facility
Saturday Service Hours
Flat Screen TVs